---
The spine is sacred in yoga as it is the middle channel or central axis through the body. In the Buddha's teaching, the Middle Way is a place free from extremes that polarize, divide, isolate and cause imbalance. In this unique class we practice movements to stretch, strengthen and make the spine supple. Tias begins showing slides that detail the spine, spinal musculature and spinal discs. Then through insight meditation, we practice embodying the Middle Way path that is free from distraction and division.
Cost: $35
Hosted by: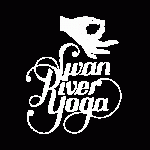 ---
Some Logistics:
This event is hosted by Swan River Yoga. Please reach out to them directly (frontdesk@swanriveryoga.com) with any issues or questions. 
Please note all events are listed in Mountain Time.
Have your props handy! We recommend a block, blanket, bolster, belt (and chair if you have access to one).
Can't join us during the live event because of your schedule or time zone? We've got you covered! Reserve your spot and Swan River Yoga will send you the video recording to watch when you can, available for 10 days after the livestream.