---
In this immersion we yoke together the potent practices of yoga and zen. We will see how the seated meditation and deep teachings that are at the heart of Zen training, which lead us toward compassion for self and others, are supported by yoga postures and breath awareness and the profound wisdom of yoga. The two practices have deeply entwined roots, and interweave in a beautiful way.
Henry and Tias draw from their years of collaboration while teaching at Esalen retreat center to offer this unique online integration of these rich and powerful disciplines. Henry provides guided meditations and teachings on the wild heart of Zen, while Tias leads sessions on postural movements to prepare the ankles, knees, hips and spine for sitting, as well as giving the deep yogic perspectives he is so richly versed in.
This event is suitable for students of all levels, ages and body types.
When: October 9 | 9:00am – 12:00pm Mountain Time
Cost: $50
---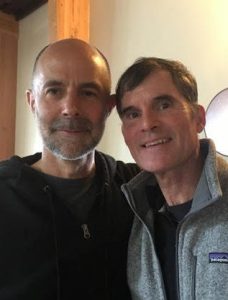 Henry Shukman teaches meditation at Mountain Cloud Zen Center in Santa Fe, NM, as well as nationally and in Europe. He is a prize-winning poet and novelist, a contributor to Tricycle and the New York Times, and the author of the recent memoir of healing and spiritual growth, One Blade of Grass. www.mountaincloud.org
---
** For those of you who are NOT attending live, kindly note that recording access will be sent out to all on the following Monday
**These recordings will be available to stream for 10 days after the live event